Kalembú Mamajuana Rum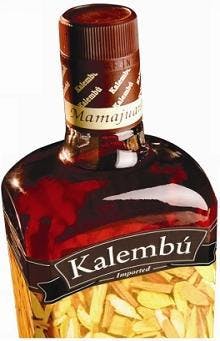 $17.99
Save $3.00 (16%)
$14.99
SKU 26773
750ml
Mamajuana is a drink from the Dominican Republic that is made by adding rum, red wine, and honey to a combination of twigs, bark, leaves and herbs. The taste is a unique combination of woody and herbal flavors, it is sweet to semi-sweet and normally the color is a deep brown/red.
KALEMBU
Kalembu is the ready-to-drink mamajuana that has revolutionized the world of mamajuana. The founders of J & J Spirits were the ones to do what nobody had done before; blending a ready-to-drink mamajuana on an industrial level, complying with international quality standards. Mamajuana Kalembu is the result of years of research, tasting and developing a way to produce a ready-to-drink mamajuana without being untrue to the original recipe and ingredients of the maceration process implied when making mamajuana.
APHRODISIAC
Mamajuana is seen and advertised as an aphrodisiac, with many people describe it as a type of natural "liquid Viagra". Women have also claimed that mamajuana enhances sexual desire.
Although mamajuana became famous for their supposed ability to stimulate the libido, the drink was originally regarded as a cure-all that was an effective treatment for many ailments from a common cold, or influenza, right through to far more serious conditions. This reputation may have derived from traditional remedies handed down through the ages from as far back as the times when the ancient tribes inhabited the island.
Whatever the truth about mamajuana's efficacy there have been a number of recent, and reputable scientific studies that have confirmed the potentially positive healthful effects of some of the typical herbal and botanical ingredients that may be used in the brewing of the liquor. Examples could be said to include resveratrol, in red wine, thought to enhance longevity, and the use of cinnamon in blood sugar control for diabetes sufferers. Studies into some of the rarer botanical herbs, roots and barks used in making mamajuana are still ongoing. - KALEMBU