Presidential Tawny Port 10 year old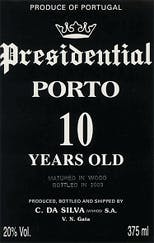 $29.99
Save $4.00 (13%)
$25.99
SKU 11793
750ml
Lively aroma of Plum, Cherry and Vanilla. Rich, full caramel flavors enhanced by a long, lush buttery finish. Slightly sweet.
Wine EnthusiastThis ripe and sweet wine has only light acidity. That gives it a soft, light character, emphasizing fruitiness rather than the wood aging of an old tawny. The aftertaste is round and soft.
Wine SpectatorIntense aromas of honey and hints of dried fruits follow through to a medium-bodied palate, with light sweetness and a nutty, slightly hot finish. Slightly drying out but good quality. Drink now.